Shopping Cart
Your Cart is Empty
There was an error with PayPal
Click here to try again
Thank you for your business!
You should be receiving an order confirmation from Paypal shortly.
Exit Shopping Cart
If your going to buy a ballistic shield on GSA Advantage , you should keep these things in mind.
1.) Don`t buy a shield that does not have a picture that accurately represents the piece of equipment advertised .
2.) Verify the "Operational Weight" of the shield and not the "Bait and Switch" weight posted without view ports , lights, and accessories.
3.) Do your research prior to placing an order, This is a small industry and all relevant information is easily assessable on the manufactures web site .
4.) Check web pricing and make sure you are not missing a sale on the gear.
5.) A (7) Year Warranty adds more value to your purchase than a (5) year Warranty.
Hope this helps , don`t fall for the retail rip-off.
The most dangerous tip to Law Enforcement ballistic protection is not the "Green Tip" it`s the "Blue Tip" . That`s the color ink in the pin of the administrators and politicians that fail to see the benefits of the simplicity of a piece of gear that has never killed anyone , but has saved hundreds.
Word on the street is the "Drug Seizure Program " money is back on . Stand by for more details. With new Grant Money next month and Budget Quotes , don`t delay on getting a Quote in now.
Sebastian Fl. Police Department deploys (8) First Responder #2 ballistic shields for their patrol level Sargent's. At 19x32 with (3a) stopping power these shields offer a little more coverage from pistol and shotgun rounds to officers on patrol.

I get asked a lot , will NIJ Level 3 ( UL Level 5 ) Ballistic Glass stop the Green tip M855 (5.56) round. My answer is Yes , but let me explain how I arrived at that answer. In the field I`ve never seen this round penetrate this level of glass glad poly carbonate. With that said , I`ve seen the M855 bounce off Mil. Spec. 46-A- 100 (.250) hardened steel plate shot from a 1in9 16" barrel , only to see it penetrated with XM 193 (ball) ammo shot from a 1in7 20" barrel . When we chanced the M-16 (AR15) rifle to the modern shorter version of the M-4 rifle we lost a lot of what Eugene Stoner had in mind for this round. When I first started working will ballistic composites I developed a Phenolic Kevlar / Polyethylene hybrid that stopped the green tips cold " in the field " , but when I sent it out for independent testing all 3 shots of a 3 on 3 special threats test when through the test sample the witness plate and as far as I know they are still headed south. I could not understand what the disconnect was because the key hole effect on the face of the samples was apparent . I was later schooled by a friend " Who has forgotten more about ballistic fiber than I will ever know" . He explained that all samples tested at the lab were shot a zero obliquity from a bench mounted rifle at max speeds . It`s the worst case scenario , not something you would ever see in the field. He went on to explain my success in the field was a result of a plus or minus 5 to 10 degree variation of the strike face from zero and level. This difference is what makes sloping armor so much more effective. For my money , the chances of taking a level, zero, on center view port shot in the field are about the same as winning the lottery. "But I think we will independently test it later this season just to be sure".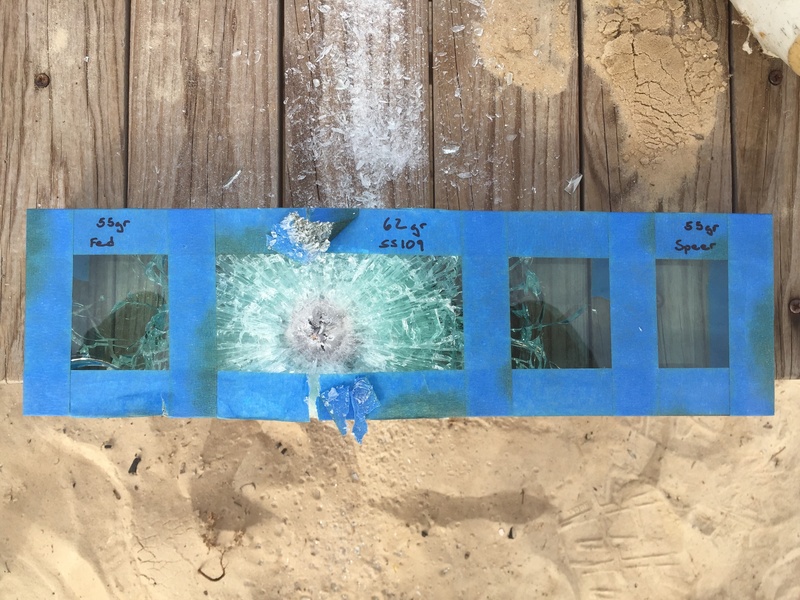 /