Shopping Cart
Your Cart is Empty
There was an error with PayPal
Click here to try again
Thank you for your business!
You should be receiving an order confirmation from Paypal shortly.
Exit Shopping Cart
If your going to buy a ballistic shield on GSA Advantage , you should keep these things in mind.
1.) Don`t buy a shield that does not have a picture that accurately represents the piece of equipment advertised .
2.) Verify the "Operational Weight" of the shield and not the "Bait and Switch" weight posted without view ports , lights, and accessories.
3.) Do your research prior to placing an order, This is a small industry and all relevant information is easily assessable on the manufactures web site .
4.) Check web pricing and make sure you are not missing a sale on the gear.
5.) A (7) Year Warranty adds more value to your purchase than a (5) year Warranty.
Hope this helps , don`t fall for the retail rip-off.
Sebastian Fl. Police Department deploys (8) First Responder #2 ballistic shields for their patrol level Sargent's. At 19x32 with (3a) stopping power these shields offer a little more coverage from pistol and shotgun rounds to officers on patrol.

V.B.C releases it`s latest offering in the "Active Shooter Line-up" . The B.E.S.T (Ballistic Standard Threat Shield). The shields 16x28 foot print mirror`s the yield of the "First Responder" and the "Active Shooter" shields in a effort to hold down cost , but offer more options in regard to shape and function. It`s a great shield and it will be offered in both NIJ Level 3a and 3.

U.S. Tactical supply will be show casing Venture Ballistic Composites Incs. new "Active Shooter" and "ROBO" SWAT shields at the 2015 SHOT Show Jan 20-23, 2015.  Visit BOOTH #20605 and put your hands on the most affordable, rugged, lightweight, and extreme shields on the market today.  Venture Ballistic clients now include the U.S. secret Service, U.S. Marshal Service and many Law Enforcement agencies across North America.  U.S. Tactical Supply has been providing cutting edge battle field products since 1999.  
Visit their Oregon store at
Address:
U.S. Tactical Supply Inc.
939 Pacific Blvd SE
Albany, OR 97321
Telephone: 541-928-8645
Fax: 541-791-2965
Venture Ballistic Composites Inc introduced the new Active Shooter Kit Bag and Shield all in one at the 2014 NTOA Mobile Alabama Conference.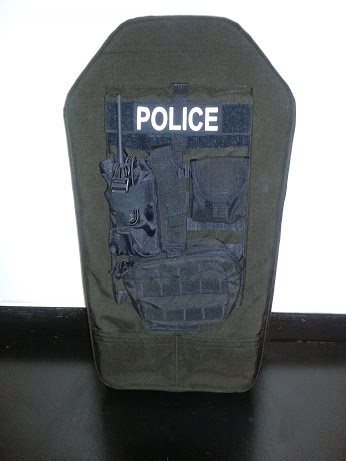 /